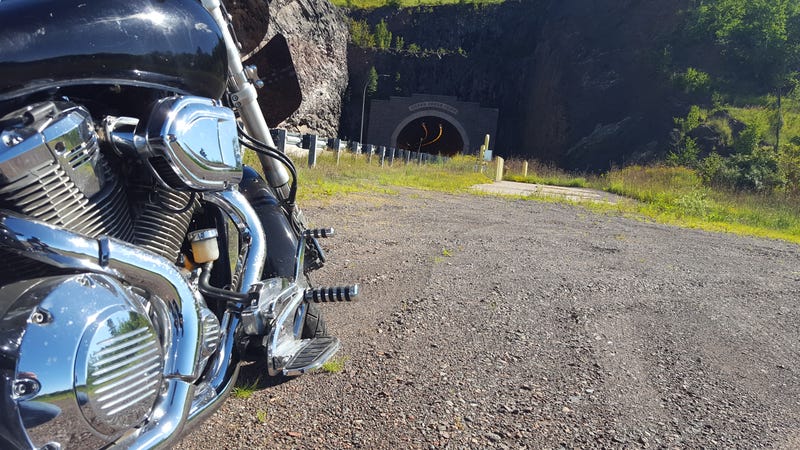 Couldn't figure out the Instagram embed and I'm sure there are some other issues, but putting this up as I leave for the weekend.
I was looking through my photos today and thought it might be fun to put all this down on (electronic) paper.

I live in the Twin Cities and work a corporate 9-5 job M-F. My bike (2003 VTX 1800C) is a weeknight/weekend toy that I lake to explore the surrounding areas. This year I rode around 4,800 miles, which is a number I'm displeased with.
First fire of the year. Motorcycle season is here! #vtx1800 #vtx #ridemn #mymotorcyclemadness #ilovefuelinjection
My season started late due to a long winter and spring coming slowly. According to Instagram, I fired the bike for the first time on April 16th. I did a 90 mile loop that day and then put it back in the garage to tear it apart. Over the next month it got new F&R tires, turn signals, a radiator, and clutch springs, which I documented in this post.
After two solid weeks of wrenching I was on the road. My first longish ride was up to Garrison, MN and back, which I wrote about:

May was a blur of friends visiting and cold temperatures. Not much riding was done. My next big ride (anything more than an 80 mile run after work) was Memorial Day, which was covered here:
Memorial Day Motorcycle Musings

That takes me into June. I had wanted to go camping up north once during the month, but ended up getting rained out. I was all packed up and ready. I had a campsite reserved Friday night and got out of work early. There was a line of storms moving across central MN that I thought I could dodge around.
So, I proceeded to go 45 miles the wrong direction, only to still get rained on and realize there was no way I was going to make it to my site before dark. I had to put my tail between my legs and go home. Instead, I washed the bike the next day
That Monday was National Ride to Work day, which I participated in:

That takes me through June. Approaching July I planned out a three day motorcycle trip to go see some music.
I didn't do a write up on that trip because I broke my phone and didn't have most of the pictures I took, but here's a summary.

Friday:

480 miles to go to see @departed_music tonight in Hastings NE. #music #roadtrip #vtx #vtx1800 #mymotorcyclemadness #ridemnA photo posted by Brandon S (@sheffib32) on Jul 8, 2016 at 7:07am PDT
Rode 480 miles from the Twin Cities to Hastings, NE. 11 hours of riding. Got in about 8pm. checked into a sketchy motel, showered, put on my clear shield and rode to the show downtown. Watched my favorite band play a corner stage in a bar to around 75 people. Stood front and center and had a ball. Met the bass player outside afterwards. Rode back to the motel around midnight and slept in my sleeping back on top of the comforter and my ground sheet for fear of bedbugs.


480 miles, 11 hours of riding, several wrong turns, and a sketchy motel room yesterday. All made worth it by seeing these guys do what they do. Round 2 today.A photo posted by Brandon S (@sheffib32) on Jul 9, 2016 at 10:04am PDT
Saturday:

Rode to Nebraska City (~200 miles) for show #2. Camped on site at the venue.

Night two seeing @departed_music . Tent camping rather than sketchy hotel tonight. #vtx #vtx1800 #vtxoa #motorcyclecamping #mymotorcyclemadness #motorcyclesofinstagram #codycanadaA photo posted by Brandon S (@sheffib32) on Jul 9, 2016 at 3:16pm PDT
Met some really nice folks while I was there. Saw an up and comer (Bri Bagwell) and met her and her crew. Also met the long time sound guy for for Cody Canada and the Departed. The picture below I'm fairly proud of. I found it after I added one of the guys I met at the show on Facebook. This was his cover photo with me in it (I'm the one in the gray shirt). It was cool to meet some people and bond with them through music.
Sunday:
Wake up extremely hung over. No phone (it broke the night before) to know what time it was or to get directions home. Wandered until I found I-29 and hauled ass to Sioux City, where I used a Kindle Fire (that I luckily threw in) and McDonald's wifi to let me girlfriend know I was alive. Made it back that night.
All told it was a fun time, but probably not something I'll do again. The concerts were fun, but the riding was boring. 1200 miles of nothing in 3 days. This year I'm hoping for something more scenic.
Honestly, I was so wiped out from that ride I took a couple of weeks off and didn't ride much in July. However at the end of the month I did hit a milestone for the bike..
https://www.instagram.com/p/BIcmlPajbab/?taken-by=sheffib32
Early into August I planned out my only trip to the north shore I took on two wheels this year.
Motorcycle Camping This Weekend

This was by far my favorite trip of the summer. Perfect weather, pretty scenery and an awesome time.

I had seen so many pictures of this place and finally got to check it out today. One of the coolest places on the north shore.A photo posted by Brandon S (@sheffib32) on Aug 14, 2016 at 3:29pm PDT
All those pictures, as well as the lead image are my favorites from the trip.
I didn't take any long rides (or at least any worth photographing) in September-October. I got a different job, was a groomsmen in my friend's wedding, visited my new nephew and vacationed with my girlfriend during that time, so there wasn't much time left for riding.
My last ride of the year was Nov. 5th. It was a 150 mile loop that led me to Stillwater, MN and the final shot of the year:
After this ride it was winterized and put in the corner of the garage. Is it spring yet???